The First International Conference of Hellenic Studies on the topic "Hellenic Political Philosophy and Contemporary Europe", organized by the Center for Hellenic Studies, was held in Herceg Novi from 29 September to 04 October 2019.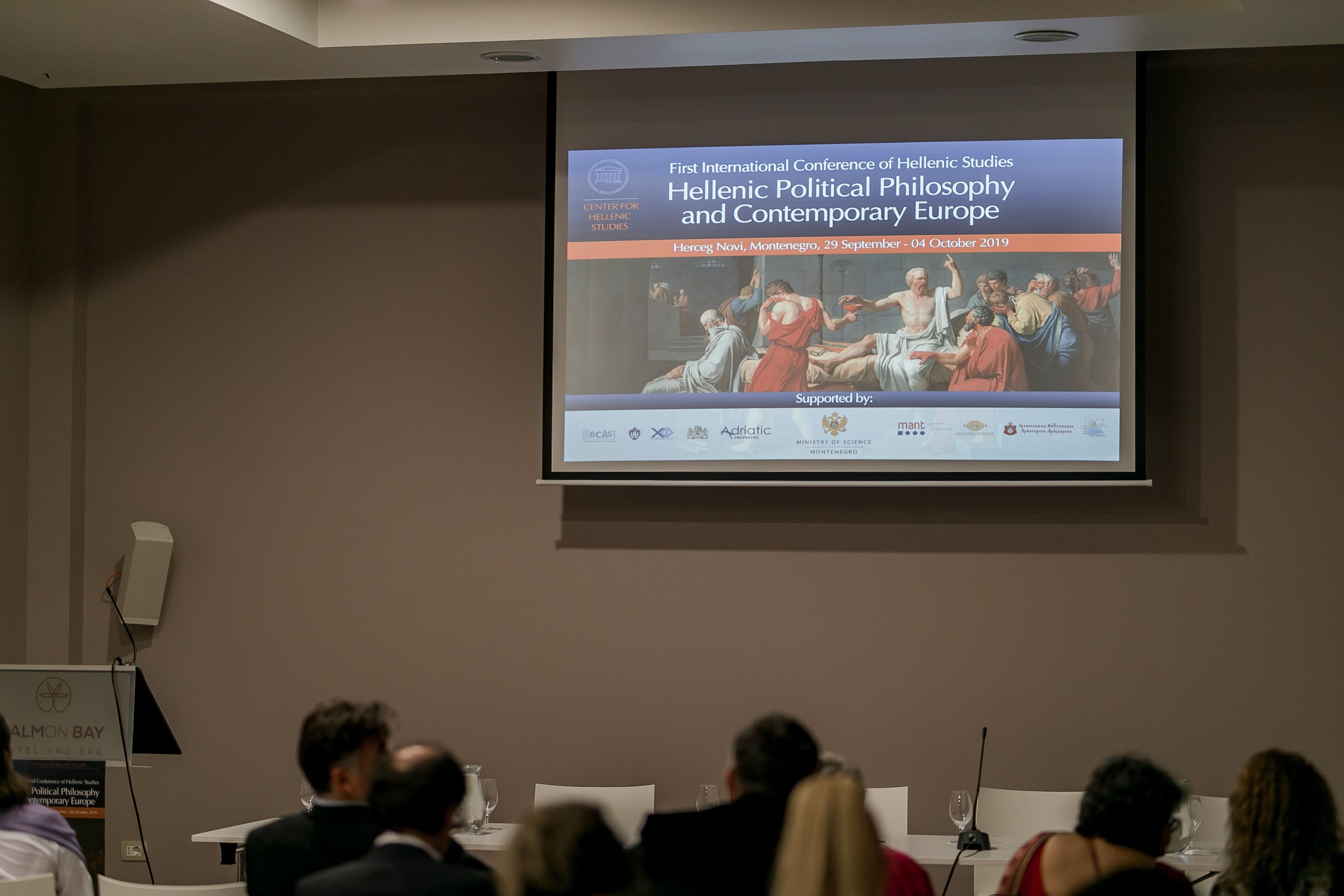 The Conference gathered 50 registered participants from 23 countries from all over the world (USA, Canada, Italy, UK, Greece, Germany, Slovenia, Serbia, Russia, Turkey, India, etc), including five keynote speakers: Prof. Catherine Rowett (professor at the University of East Anglia and member of the European Parliament), Prof. Gerhard Thür (Austrian Academy of Sciences), Prof. Leo Catana (professor at the University of Copenhagen), Prof. Giovanni Giorgini (professor at the University of Bologna) and Prof. Nicholas D. Smith (professor at the Lewis & Clark College).
The official opening ceremony of the Conference was hosted on 29 September. The participants and guests were greeted by Dr. Darko Petrušić, Director General of the Directorate for Research at the Ministry of Science of Montenegro, Ms Tamara Vujović, Advisor to the Mayor of Herceg Novi, Dr. Aikaterini Lefka, member of the Center for Hellenic Studies and lecturer at the University of Liège, and Dr. Filip Ivanović, Director of the Center and President of the Organizing committee.
In his address, Dr. Petrušić conveyed that the Ministry of Science is proud that such a conference is being organized in Montenegro, and especially in Boka, which is the jewel of the Mediterranean, and reminded that the Mediterranean basin is the cradle of civilization, in which philosophy, history, art, science and technology developed. "Let us not forget that Europe began in Greece. The idea of the European continent as a cultural unity dates back to ancient Greece, in many different ways. Ancient Hellenic conception defines politics, not only as a fundamental designation of human beings, but also as inseparably linked to ethics", he added. He emphasized that it is of special importance that this conference is being organized as part of the COST (European Cooperation in Science and Technology) project in which the Center for Hellenic Studies participates, thanks to the funding received by the Ministry of Science.
On behalf of the Municipality of Herceg Novi, Ms Tamara Vujović said that the Municipality is pleased that such a great number of scholars are present in Herceg Novi, and reminded that the town was always a place in which scholars, thinkers, artists, and politicians, felt at home. She added that Herceg Novi is where Petar II Petrović Njegoš, Montenegrin bishop, prince and poet, studied, and where Ivo Andrić, Yugoslav Nobel-prize winner, who was not only a writer but a historian and diplomat as well, spent part of his life. Both Njegoš and Andrić, as Ms Vujović stated, synthesized art, reflection and politics, and were both touched by Herceg Novi; it is thus no wonder that the organizers chose it as a venue for this conference.
Dr. Aikaterini Lefka greeted the participants on her behalf and on behalf of Prof. Konstantinos Boudouris, President of the International Association for Greek Philosophy, who was not able to attend the conference due to health issues, but conveyed his contentment that such an event is organized in Montenegro, and congratulated the convenors on successful realization and wished best of luck in future endeavors.
Dr. Filip Ivanović explained that this conference is organized as the completion of a two years long work on the project "Hellenic Democracy and Europe", through which the Center for Hellenic Studies participates in the COST action on civic rights and democracy in Europe. He reminded that philosophers, although influential in ancient times, did not have an easy relationship with politics, and cited examples of Socrates, who lost his life in democratic Athens, Plato, who was almost executed in Sicily and then sold as a slave, and Aristotle, who, after the death of Alexander the Great, barely escaped Socrates' fate. "These examples would lead to think that philosophers' thoughts on politics and public affairs weren't much appreciated by the public functionaries, not just in tyrannies, but in democracies as well. Their ideas were rather considered as dangerous and disconcerting for the ruling elites, which, on the other hand, implies philosophy's certain weight and importance in those times. Fast forward two and a half millennia, philosophers are not, at least not in Europe, sentenced to death or exiled, which is obviously an improvement, but this is not because philosophy became less critical or more adaptable to the political elites' interests (at least we should hope so) – but rather it lost its weight, became marginalized, and its influence faded away. A hypothetical Socrates would today be probably considered just a strange mad man, wandering around and talking to himself about concepts that no one today really cares about", Dr. Ivanović stated. He also said that the Center for Hellenic Studies, apart from academic research, organized a number of public lectures and debates on topics related to political philosophy, which were open to wide audience, in order to better reconsider themes of democracy, politics, active citizenship, populism, and similar. At the end, Dr. Ivanović thanked the sponsors and announced that this event is just the beginning of a tradition – to regularly organize international conferences in Montenegro on topics that, apart from academic significance, have a bearing on our lives and practices, and are closely related to Greek culture and civilization, which we see not only as the root of European identity, but as the basis for fundamental human values that we need to cherish today.
After the greeting addresses, a keynote lecture was given by Prof. Catherine Rowett, who spoke on the topic "Europe, Economic Policy and the Lessons We Should Learn from Thinkers of Antiquity". In her talk, Prof. Rowett spoke of the beginnings of "economic theory" in Presocratics, Plato, and Aristotle, highlighting the importance of cooperation and friendship in economic affairs, and the concept of common good, that has been lost in the modern obsession with property and ownership. This has contributed to the gulf between economic theorists who think that to be rational is to value monetary gain above all else, and the ordinary people whose emotional loyalties cannot be bought with money, but who can easily be swayed by populist rhetoric.
The official opening ceremony concluded with the welcome reception at the terrace of the Palmon Bay Hotel.
In the following days the conference proceeded in morning and afternoon sessions, at which 40 papers on various topics were delivered.
Four other keynote lectures were delivered during the conference: "Warfare and International Arbitration" (Prof. Gerhard Thür), "Aristotle's Notion of Political Education in the Context of Contemporary Liberal Democracies" (Prof. Giovanni Giorgini), "Plato on Recognition of Political Leaders: The Importance of Mirrored Character Traits" (Prof. Leo Catana) and "Pity the Tyrant" (Prof. Nicholas D. Smith). Topics of other papers concerned different fields, such as philosophy, law, political theory, drama, art, and theology, and were dedicated to themes such as Epicurean justice, Aristotle's theory of tragedy, the role of philosophers as rulers in Plato, Hellenic concept of agon and modern competitiveness, contemporary theory of solidarity, the notion of cosmopolis in Cynics and Stoics, the relationship between Orthodoxy and democracy in the 20th century, etc.
In cooperation with the Municipality of Herceg Novi, Herceg Fest, and Tourism Organization of Herceg Novi, a rich cultural and social program was designed for the participants of the conference, who had the opportunity to cruise the Boka Bay and visit the island and church of the Lady of the Rocks.
Thanks to the wholehearted support of Mrs Gordana Porobić Krcunović, director of Herceg Fest and member of the Honorary organizing committee of the Conference, the participants enjoyed a guided tour of the town and its famous fortresses, during which they were acquainted withe Herceg Novi's history and important landmarks. In addition, one session of the Conference was held in the "Park" hall, owned by Herceg Fest, after which Folklore Ensemble "Igalo" performed traditional dances of Montenegro, Boka, and Serbia. Herceg Fest also provided adequate media and marketing support to the Conference.
On the last day of the Conference, the Municipality of Herceg Novi hosted a farewell dinner for the participants. On behalf of the Municipality, the participants were greeted by Mr. Nenad Đorđević, Chief Administrator of the Municipality, and Mr. Darko Klasić, Secretary of social affairs. Mr. Đorđević said that the Municipality is very happy that Herceg Novi is the host of such an important event and expressed his hope that the guests enjoyed the town, along with the promise that the Municipality shall give full support to similar international events, through which Herceg Novi becomes an important spot on the map of cultural and academic tourism.
The First International Conference of Hellenic Studies was organized by the Center for Hellenic Studies from Podgorica, with Ministry of Science of Montenegro as the main sponsor. Logistical and financial support was provided by the Municipality of Herceg Novi, Public Institution of Culture Herceg Fest, Tourism Organization of Herceg Novi, Adriatic Properties, Orthodox Metropolitanate of Montenegro and the Littoral, Montenegrin Association for New Technologies (MANT) and Gradska Kafana restaurant in Herceg Novi. COST action "Reappraising Intellectual Debates on Civic Rights and Democracy in Europe (RECAST)" provided four grants to young researchers whose papers were accepted to be presented at the conference.